World Congress of Families Leadership Memo, September 29, 2017
Leaders Gather for Rhodes Forum, Closing Abortion Clinics in Kenya, WCF Malawi Conference, NCOSE War on Pornography, #Teens4Truth Countering the LBGT Agenda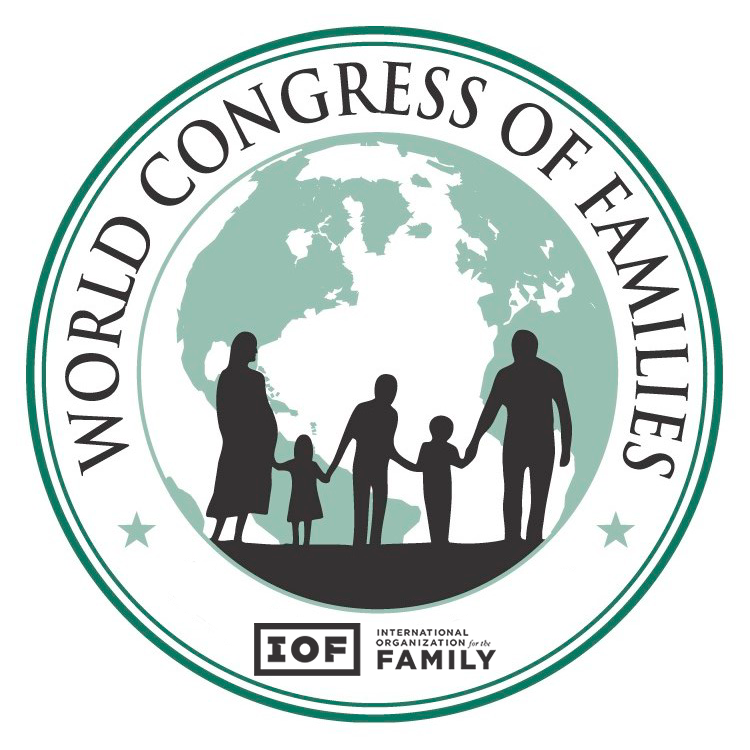 "For pro-family leaders…a project of the International Organization for Family, uniting and equipping leaders worldwide to promote the natural family."
WEDNESDAY, SEPTEMBER 20, 2017
Rhodes Forum XV 2017 – WCF Leaders Speak Along with Former Heads of State and Global Leaders, October 6-7

The 15th Anniversary Rhodes Forum organized by the Dialogue of Civilizations Research Institute will take place from October 6-7, 2017 in Rhodes, Greece.
This year, speakers will include WCF President Brian Brown, Managing Director Larry Jacobs, World Congress of Families African Coordinator Theresa Okafor and Natalia Yakunina, Chairman of the Sanctity of Motherhood Program.
Among the other prominent speakers are Milos Zeman (President of the Czech Republic), Goodluck Jonathan (President of Nigeria, 2010-2015), Dominique de Villepin (
Prime Minister of France, 2005-2007), Alfred Gusenbauer (Federal Chancellor of Austria, 2007-2008), Vaclav Klaus (President of the Czech Republic (2003-2013) and Walter Schwimmer (Secretary General, Council of Europe (2004-2007).
For 15 years the Dialogue of Civilizations has been at the forefront of research into dialogue-based solutions to the problems we face. Today, momentum is building around dialogue as a way of effecting real change in how we view economic growth and societal development.
The Rhodes Forum has convened each year since 2002, gathering between 300 and 600 participants annually from over 70 countries. Past speakers on family and life have included Alan Carlson (WCF Founder), Don Feder (Coalitions Director and Coordinator of Regional Conferences), Christine Vollmer (WCF Ambassador), Alexey Komov (Russia),  Peggy Hartshorn (Heartbeat International), Father Maxim Obukhov (Russian Orthodox Church), Christine Vollmer (WCF Ambassador), Lech and Ewa Kowalewski (Poland), Father Dmitry Smirnov (Russian Orthodox Church), and Ted
Baehr (Movieguide, USA) . Throughout its history, its hallmark has been the pioneering spirit, inclusiveness, and moral resilience of its participants in their work to tackle the problems we face.
The Rhodes Forum provides a platform for prominent business people, policymakers, and scholars to engage in wide-ranging debate on the most pressing issues on the international agenda
This year's Rhodes Forum will comprise overarching themes through which participants will explore social, economic, and political issues. In additon, two focal events will be the Summit on Globalization and the Future of Democracy, and the Summit on Global Infrastructure Development Scenarios: Where the Interests of Banks, Industries, Governments, and Societies Meet, in which thought leaders from civil society, politics, and the business community will come together to discuss concepts, problems, and solutions to key questions.
Brown, Jacobs, Okafor, and Yakunina will speak
about virtues and the importance of the natural family as the only fundamental and sustainable unit of society at a session called "Society Solutions – Challenges to Humanity: Traditionalism vs. Postmodernity."  Thanks to Natalia Yakunina's leadership, pro-life and pro-family discussions have become an integral part of the Rhodes Forum annual dialogue of the world's most significant crises.
Visit Dialogue of Civilizations Research Institute website to learn more about the 15th Anniversary Rhodes Forum.
40 Days for Life Kenya Targets Marie Stopes Clinics
40 Days for Life Kenya ("End Abortion in Kenya and the Whole World: Prayers to Close Abortion Clinics in Kenya") will begin its annual campaign on September 27 at the Marie Stopes Clinic in Nairobi. The campaign is headed by the African Organization for Families, a World Congress of Families Partner.
Organizers charge that the Stopes Clinics in Africa have been carrying out illegal abortions in Kenya and other countries where abortion is illegal. CitizenGo , also a WCF Partner, delivered a petition to Kenya's Ministry of Health demanding that the government close all of the Stopes clinics in the country. The petition can be signed here.
There will be a prayer campaign at the clinic for the next 40 days. Volunteers can email africanorganizationforfamilies@gmail.com to register.
The African Organization for the Families is organizing a World Congress of Families
Regional Conference in Malawi at the Sun Bird Capital Hotel in Lilongwe, November 28 through the 30th.  Brian Brown and Don Feder are among the many pro-family and pro-life speakers.  Visit African Organization for Families Facebook page to learn more information.  There is still time to register online here.
National Center on Sexual Exploitation Attacked for Warning that Pornography is a Public Health Hazard 
The website Jezebel — a popular platform featuring social commentary and celebrity gossip catering to a female audience — posted an article last week called "The War on Porn is Back," which attacked the National Center on Sexual Exploitation  (a WCF Partner) for its work demonstrating the public health harms of pornography.  The article focuses on state resolution recognizing the dangers of pornography, which NCOSE's Law Center drafted and worked with state
legislators and advocacy groups to pass in such states as Utah, South Dakota, Tennessee, and Arkansas The Jezebel story is typical of those that attack the anti-porn movement for fomenting "moral panic" and being "anti-sex."
NCOSE President and CEO Patrick Trueman responds: "While some may consider such an article 'bad news,' we take a decidedly different view. We see this article as proof that our efforts are succeeding, and that not only are porn mongers and the global
kingpins of sexual exploitation taking notice, they're getting concerned! Why else devote so much ink to attacking a small organization like ours? While we normally have nothing in common with pornographers, we certainly agree with them and their apologists on this: 'The War on Porn is Back!' Indeed it is."
World Congress of Families has been involved in a number of anti-porn summits sponsored by the National Center on Sexual Exploitation.  Read more about NCOSE's work here.
#Teens4Truth Conference,"Countering the LGBT Agenda," at Southwestern Baptist Theological Seminary, Nov. 17-18
 A Teens4Truth Conference on "Countering the LGBT Agenda" will take place at the Southwestern Baptist Theological Seminary, November 17 and 18, sponsored by the Seminary, Concerned Parents of Texas, and Mass Resistance.
Topics include: "What Does The Bible Say About LGBT Issues?" – "Answering the LGBT Agenda in Churches & Schools: A Real Education in Nature" – "Calling Out to Churches – The Witnesses Who've Been There" – "How You Can Set the Record Straight In Your Schools" – "Political and Legal Rights are Under Siege," "The Real Research and Evidence of LGBT Philosophy" – "Parents: How You Can Be the 'Go to Person' for Your Child's Questions About Sexuality" – "How You Can Speak Up And Get Involved" – and "The Reward of Real Love."
Speakers include Texas State Senator Donna Campbell, Dave Welch (US Pastors Council), Jonathan Saenz (President of Texas Values), and Dr. Bobby Lopez (a professor who was raised by lesbian "mothers").
Professor Robert Lopez and Dr. Candi Finch from Southwestern Baptist Theological Seminary (SWBTS) were both speakers at WCF XI Budapest Family Summit in May.  SWBTS President Paige Patterson and First Lady Dorothy Paterson have been active in World Congress of Families for more than a decade.  Dr. and Mrs. Page have also hosted two World Congress of Families International Planning Meetings on the campus of Southwestern Baptist Theological Seminary in Ft. Worth, Texas.
Calendar of Upcoming Events
 —————————————————
Thank You To All of Our World Congress of Families Partners For Your Leadership and Support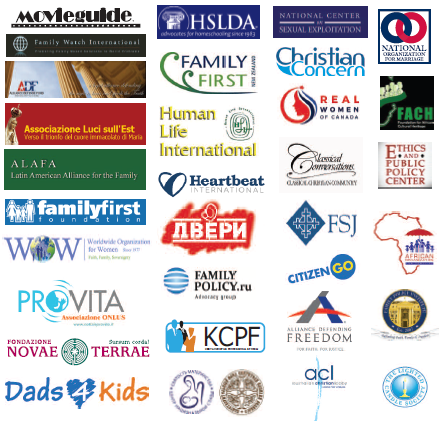 World Congress of Families Partners
African Organization For The Family (Kenya)
Angels of Charity and Music (Peru)
Alive to the World (United Kingdom)
Alliance Defending Freedom (USA)
Latin American Alliance for the Family  (Venezuela)
Associazione per La Difesa dei Valori Cristiani – Luci sull'Est  (Italy)
Black Conservative Summit (USA)
Christian Film and Television Commission
Christian Concern (United Kingdom)
Ethics and Public Policy Center (USA)
Sanctity of Motherhood Program (Russia)
Family Policy Institute (South Africa)
Foundation For African Cultural Heritage (Nigeria)
Freedom's Journal Institute for the Study of Faith and Public Policy (USA)
Georgian Demographic Society (Republic of Georgia)
Home School Legal Defense Association (USA)
Kenya Christian Professionals Forum
National Center on Sexual Exploitation (USA)
National Organization for Marriage
Novae Terrae Foundation (Italy)
Tradition, Family, and Property (USA)
Touchstone Magazine: A Journal of Mere Christianity